New windows going into the old Champion School.
The years are passing quickly.¬† The Denlow/Fairview School Reunion has come and gone again.¬† Attendance was down a little this year due to threatening weather and conflicting events, but those who made it out had a great time.¬† There was a little music before lunch and a lot of visiting.¬† It turned out to be a lovely day after all.¬† The pot luck luncheon was a genuine feast.¬† Shirley Brixey is a Denlow School alumnus.¬† Her son Ed Williams and his wife Sonja provided fish, chicken and hushpuppies that were a great hit.¬† That hushpuppy receipt is one that every cook in attendance would be glad to have.¬† After lunch Pete Proctor led the group in the Pledge of Allegiance and presented a short program dedicated to the Veterans.¬† Laverne and Jessie Mae Miller were not able to attend this year.¬† They had appointments to keep.¬† Laverne'Äôs auctioneering skills were much missed, but Pete and The General did the best they could.¬† Margie Carr, an Upshaw cousin from Washington State, wound up with framed photographs of two big Denlow attractions and a complete set of Champion post cards.¬† Ray Hicks was down from Bluegrass, Iowa, and took home with him a big bluebird house.¬† Well, the actual house was not that big, but it was on a tall post with a welcome sign attached to it.¬† He said they have bluebirds up in Iowa too.¬† Ray also said that he reads The Champion News, but he does not recognize the people mentioned there any more.¬† Family and friends were sorry that Pete and Bonnie Mullens did not make it to the reunion this year.¬† I guess Ray knows them.¬† We miss the old timers too, those exciting personalities who are just the previous generations of young vital people living here.¬† Ray'Äôs dear sister, Ruby Proctor, and her life-long friend, Esther Keller Wrinkles, and all their friends, family and acquaintances are the sweet legacy of the place.¬† These days old folks often visit Denlow and Champion with their individual sets of memories of the good old days.¬† Once Esther said that Champion was not anything like it used to be, that it had really gone down.¬† The folks who live here now, young and old people and people from elsewhere, love the place even as she did always.¬† 'ÄúTime is filled with swift transitions!'ÄĚ
Alumni attending the 2017 Denlow/Fairview School Reunion: Robert Upshaw, Johnny Cox, Shirley Brixey,
Fred Follis, Kaye Upshaw Johnston, Dean Brixey, Kenneth Anderson.
Veterans attending the 2017 Denlow/Fairview School Reunion: Margie Carr, Robert Upshaw, Dailey Upshaw,
Jaes Garrett, Fred Follis, Frankie Proctor, Dean Brixey, Paul Upshaw, Pete Proctor.
Birthday celebrations begin with Kaitlyn McConnell on the 6th of June.  She is a lovely lover of the Ozarks and a frequenter of Champion and Douglas County.  The next day, the 7th, belongs to Wayne Sutherland who was 85 in 2015 and was hob knobbing with friends on the North Side of the Square back in May when we had our Spring Fling.  Destiny Jeffery was an 8th grader at Skyline last year.  She shares Mr. Sutherland's birthday.  Jacob Shannon will be in the second grade in the fall.  His birthday is on June 10th.  Isabel Creed and Wyatt Hicks will both be in the 7th grade in the fall.  Her birthday is on the 12th and his will be on the 13th.  Zackary Coon's birthday is on the 15th.  He shares the day with Ava's sweet Janice Lorain.  Champion grandson, Foster Wiseman, has his big day on the 16th.  So, congratulations all you birthday Champions!  Know that your friends and families all love you and are glad you are in their lives for another year.  Vanzantians sang that special song to a dazzling personality on Thursday.  Her birthday had been the previous Friday and she sparkled with happy contentment and let her vivacious laugher loose on the crowd.  To have had yet another birthday is dazzling, indeed.
Lannie Hinote is on her way home from Alaska.¬† She passed some beautiful waterfalls in Canada, got her picture taken with a moose, saw a family of bears walk by her camper and entered the United States of America again at Roosville, Montana.¬† She will have stories to tell and her family is looking forward to her arrival.¬† On Sunday evening she posted a video from Yellowstone.¬† She said, 'ÄúOld Faithful did not disappoint.'Ä̬† Adventure comes in different ways.¬† On Wednesday music minded loiterers were loitering on the wide veranda when Mr. Joseph Bullfer pulled up in his 1923 Ford touring car.¬† What a beauty!¬† He knows the provenance of the vehicle since it was new'ÄĒwho owned it and for how long'ÄĒwhat they paid for it'ÄĒhow long it set up'ÄĒwhy it was sold.¬† The man he bought it from sold it because his wife would not let the grandchildren ride in it with no seat belts.¬† The car has a three pedal system of stopping and going that would take some getting used to.¬† He had some mechanical difficulties not long after he left the Square, but it was observed that ere long he had competent help and after some while was on his way again.¬† It was a real treat to see.¬† Other sights to see on the Square include the new windows in the Champion Church of Christ which started out as the Champion School.¬† Alumni in distant places will be pleased to see how the old building is being sustained.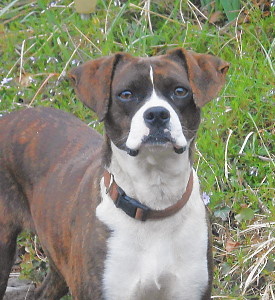 Here's Jonnie!
Ethel of Omo inquires about Jonnie from time to time.  Jonnie is the Boxer/Beagle mix that came to Champion old folks back in February.  She has been a real gift to them with her affection and her antics.  She showed up on the scene, emaciated and anxious.  It took some coaxing and food to get her comfortable, but now she is part of the family.  She had obviously had puppies at a very young age and was in that condition again.  The vet said she was probably two years old or younger.  She has had her operation now and has a loving home, but it was just good luck that she found an accepting place.  The Ava Area Animal Welfare League has a spay/neuter program that is dedicated to preventing the kind of abuse that Jonnie suffered.  They are going to be part of the Citywide Yard Sale in Ava on Thursday, Friday, and Saturday June 8th-10th.  Their part of the sale will be at 109 N. Jefferson.  It is the white building on the west side of Jefferson, across from Givan's Furniture.  There will good stuff there donated by friends, neighbors and businesses who appreciate the efforts of the Animal Welfare League and their good ethical work.
'ÄúEthics,'ÄĚ there is that word again.¬† How does it happen that a Nation whose very genesis comes from protesting the unfairness of a government can somehow now consider legislation around the country making protesting a felony?¬† The private security firm, TigerSwan, retained by Energy Transfer Partners, coordinated with local, state, and federal law enforcement to undermine the protest movement of the Dakota Access Pipeline while it sought to portray the wronged Native, First Nation, peoples as a jihadist insurgency.¬† As the white people of Nebraska stand up to the Keystone Pipeline, will there be yet another Ethical Waiver that will allow them to be called terrorists when they try to protect their land?¬† Ethics turns out to be a conundrum to some.
On the Bright Side, if you are looking for the names of your contemporaries in The Champion News, you might spin a yarn at champion@championnews.us or to The Champion News, Rt. 72 Box 367, Norwood, MO 65717.¬† We kind of know the story about when Bud Hutchison was run over, and the one about when Mr. Hatfield wrestled the bear on the dance floor out over Fox Creek.¬† Then there was the time Ferlie Lambert blasted a humming bird with his 12 gauge because it would not share.¬† Cletus Upshaw knew stories and had an easy way of sharing them.¬† Come down to the wooly old banks of Auld Fox Creek and tell your stories.¬† 'ÄúTell me why the stars do shine.¬† Tell me why the ivy twines.¬† Tell me why the skies are blue'Ķ'ÄĚ In Champion'ÄĒLooking on the Bright Side!
Joseph Bullfer touring through Champion in his 1923 Ford.