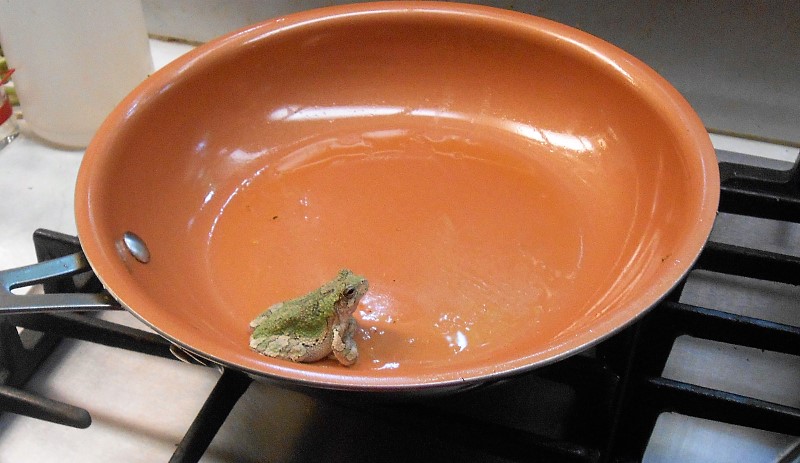 A Champion tree frog pauses in the kitchen on his way outside after spending the winter inside.
Our 'Äúpaterfamilias'ÄĚ'ÄĒwho is that?¬† Why, that is our dear old dad.¬† He is the Champion being celebrated from coast to coat and stem to stern the whole wide world around.¬† While it may be that every one of them is not the poster dad for perfection, the outpouring of love, affection, appreciation and awe still filled up the phone lines and mailboxes.¬† Some offspring stood on the front porch with grins on their faces and presents in their hands.¬† A Hawaiian shirt, new bar-b-que tools, a certificate for a weekly visit from a grounds-keeping crew, keys to a 1957 Thunderbird'ÄĒany of those things would make a nice gift.¬† The examples set by the old guys are the ones being taken up by young fathers, and as a consequence, there are some splendid children being raised.¬† For those who just have the memory of the man now, he has taken on a reputation of having been wise and infallible and funny, loving, generous and steadfast'ÄĒa Champion for sure.¬† Thanks for everything, Dad.
I.P. Henson had a pet black snake that curled up in the rock garden near where he liked to sit.¬† The story was passed down to his great granddaughter who still maintains the rock garden but has no genuine affection for any of the local reptiles including especially those that like baby chickens.¬† Snake stories were part of the conversation at the Wednesday gathering at the Historic Emporium on the South side of the Square.¬† Some folks are of the 'Äúkill every snake you see'ÄĚ philosophy.¬† Others ascribe to the 'Äúlive and let live'ÄĚ credo, citing examples of black snakes and rat snakes that eat rats and rabbits.¬† Copperheads also eat rodents and cicadas, and king snakes kill copperheads.¬† There is a kind of ammunition called 'Äėsnake shot'Äô and there are any number of methods of doing away with the critters, though it is suggested that the Missouri Department of Conservation frowns on the practice.
Visitors to Champion on Wednesday will be celebrating the Summer Solstice.¬† Thereafter the days will be getting shorter and the nights will be getting longer.¬† This celestial occurrence is observed and celebrated by many different cultures around the globe.¬† Most of those festivities probably include music, food, and fellowship, just like we do here in the Ozarks.¬† June is also the big month for wedding anniversaries.¬† Reba and Don Bishop just celebrated their fiftieth and Ethel and Bob Leach had an even bigger one.¬† 'ÄúThey'Äôre playing our song'ÄĚ is likely being said many times as spring morphs into summer.¬† Congratulations to all you who have stuck it out through thick and thin'ÄĒfor better or worse'ÄĒlike true Champions.
A female hummingbird in for a morning drink.
Hovey Henson writes that his hummingbird feeder down in Texas is not seeing any action.¬† Folks up in this part of the country are also reporting fewer humming birds than usual.¬† It may be that most of them are nesting at this time and that the new clutch will be out buzzing around soon.¬† Nature holds plenty of excitement.¬† One Old Champion couple had a tree frog that wintered over in their plant room.¬† It would sometimes respond to the phone ringing or to the tuning of the mandolin.¬† The old lady was out on Thursday evening and the old man thought he heard the frog in the kitchen, though it could just as easily have been his tinnitus.¬† On Friday morning, however, he put up the oatmeal and was about ready to break the eggs into the skillet when he discovered the beautiful little tree frog sitting in his copper clad egg pan (as seen on TV).¬† It took some doing but the couple finally escorted the little fellow out into the lovely outside which he had not seen since last fall.¬† Most likely he found friends out there.¬† Friends are looking forward to seeing Hovey and Dawn and their whole bunch at the Champion School Reunion this fall'ÄĒthe Saturday before Labor Day.
Walter Leland Cronkite Jr. was born in St. Joseph, Missouri in 1916.¬† His first job was as a cub reporter for the Kansas City Times.¬† He was a war correspondent during World War II and reported on the Nuremburg Trials, the Viet Nam War, the assignation of President Kennedy, the resignation of President Nixon and every other important thing that happened before he retired in 1981.¬† In 1982, he wrote a preface for a new edition of Orwell'Äôs famous book, 'Äú1984,'ÄĚ first published in 1949.¬† He referenced the term 'ÄėNewspeak'Äô saying we hear it in every use of language to manipulate, deceive or to cover harsh realities with the soft snow of euphemism.¬† Every time a political leader expects or demands that we believe the absurd, we experience the mental process Orwell called 'Äėdoublethink.'Äô¬† Cronkite said, 'ÄúWe recognize, however dimly, that greater efficiency, ease, and security may come at a substantial price in freedom, that law and order can be a doublethink version of oppression, that individual liberties surrendered for whatever good reason are freedom lost.'Ä̬† Cronkite passed away in 2009.¬† It would be interesting to know just what 'Äėthe most trusted man in America'Äô would have to say about what is happening these days when government has hired military mercenaries to attack American citizens on their own land at the behest of private industry, when the federal government, as well as our own state government, is awash in scandal and the standing of the Nation in the world community is at an all-time low.¬† He might well have shaken his head in disbelief today when he said, 'ÄúAnd that'Äôs the way it is.'ÄĚ
The way it is in Champion is just fine.¬† Gardens are in and beautiful.¬† Come on down to the wide, wild, wooly banks of Auld Fox Creek where old friends and new ones amble up on to the spacious veranda and sit a spell to visit.¬† They say when it'Äôs all said and done there is more said than done, but praises are still being sung for the efforts of the Eastern Douglas County Road Maintenance Men as they work to repair roads and bridges damaged in the recent flood.¬† Bingo parlor envy is being aroused in connection with the new Vanzatian edifice.¬† Haymakers are 'Äúgettin'Äô 'Äėer done, sis.'Ä̬† Music is in the air and the new acoustic jam at the Senior Center in Cabool on Monday nights is getting some great reviews.¬† Everyone is welcome.¬† Contact Lynette Cantrell at 417-260-1050 for additional information.¬† Contact The Champion News, Rt. 72 Box 367, Norwood, MO 65717 for any reason or look us up at www.championnews.us to see a solid decade of this kind of stuff, some old and new photographs and to hear some wonderful local music.¬† Frances Banks frequents the bluegrass jam at Vanzant and shared the May, 1982, edition of 'ÄúCountry Song Round Up'ÄĚ with a friend there.¬† It contains one of her favorite songs which she hopes to hear one of these Thursdays.¬† It is Don Williams'Äôs song, 'ÄúLord, I Hope This Day Is Good.¬† I'Äôm feeling empty and misunderstood.¬† I should be thankful, Lord, I know I should, but, Lord, I hope this day is good.'Ä̬† It will be for sure if you are in Champion'ÄĒLooking on the Bright Side!