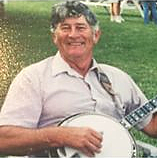 Mr. Banjo
The fiddle tune we know of as "The 8th of January" was called "Jackson's Victory" to celebrate something that happened in 1815. The tune also went by the names "Go See the Widow," "Old Jake Gilly," and "Chase the Squirrel". Any of those could be used to commemorate current events in America. Meanwhile, January got off to a lovely start with a Teeter Creek rock and roll Grandma birthday and the next day the celebration for prekindergarten teacher, Mrs. Harley, at Skyline School. That was also the big day for Kabella Cark, who is now 11 years old. Jacob Coon parties on the 3rd along with Greta Thunberg—what a pair. The 4th was for fifth grader, Christopher Yager. Either the 4th or the 5th is the birth anniversary of one of those charming Upshaw brothers, the one who can walk for miles and find a mushroom anywhere. The 5th is definitely the big day for PK student Amelia Johnson and the 6th for Mr. Bud, who drives a school bus and keeps the school plant and the expansive grounds working well and looking good. Felix the Farmer also has the 6th for his big day which started in 2018. He likes flowers. Elizabeth Johnson Lawrence has a party on the 9th and Mr. Teeter Creek, the herbalist, will enjoy the 11th for his anniversary of life. The L & E Organic Farmgirl and herbalist, Ms. Richardson, encourages gardeners all year long, even on her birthday, the 12th. The much missed Mr. Banjo Norris Woods was born on January 13th. That day we also celebrate Diane Wilbanks over on Bryant Creek, Robert Graham up on Jim Bob Hill, and Melanie Blankenship Upshaw, who has no choice but to have fun considering who her in-laws are. These are just a few of the many fine folks who have early January birthdays. Your Champion friends salute you all. We are glad to know you, grateful to have you in our lives.
Seed catalogues are already choking our mailboxes, a lovely harbinger of spring, just seventy days away. Sunflowers appeared in many gardens last year as a reminder of support for Ukraine. The Baker Creek Heirloom Seed Company has raised well over a million dollars to help the people of Ukraine. Mr. Gettle's grandfather immigrated from there a hundred years ago, fleeing Soviet aggression. The world is full of refugees fleeing poverty, war, and oppression of all kinds. Everyone is from somewhere and almost everyone could use a little help from time to time. It's like the old boy says, "Everybody's got to be somewhere." That is the punch line from a long convoluted joke told buy a guy whose sweetheart is in the good thoughts of her many friends as she deals with health difficulties. She likes Old Blue Eyes. It has been a good experience to see all the NFL and other football players and fans coming together in support of their injured comrade. Opponents helping each other up off the field is an inspiring vision.
| | |
| --- | --- |
| Coffman's Place | Orville's Barn |
A Champion who grew up in Oklahoma shared a joke using names of some of the towns there. It goes: Sallisaw Henrietta Wagoner Catoosa. Douglas County has some pretty interesting names among its townships. Perhaps some clever Booger County bard can string a few of those together for some fun. It is a pleasant pastime to sit near the old wood stove in the Historic Emporium to hear current 'old-timers' going over old stories about the older old-timers, their triumphs and tragedies, and the hard work of their daily lives. People visiting from big cities say that being here is like going back in time. As we watch Orville's old barn and the old Coffman place let light in through their roofs, we see the old times melting away. We have one foot in the distant past and one in the distant future, hoping for real broadband internet someday. Meanwhile, we cherish the old timers and happily soak up their stories. Champions—Looking on the Bright Side!