Excitement comes along with warmer weather.  Darcy and Donnelle are out on a tear.  The pilgrims from Idaho, after several unnecessary turns, came ambling through the territory on Wednesday, bravely fording the deep, swift waters of Fox Creek to enjoy a family sit-a-spell around the old wood stove in Downtown Champion.  Charlie Smith was there too.  She came over from Mt. Home to hear her mom sit in with the Sometimes Porch Band.  If that were not enough, the northerners showed up at Vanzant where they feasted with family and friends.  It was there that the charming Donnellle was subjected to the roasting jibes of The General who ushered her into the family fold with his musical rendition of Reincarnation.  Where do cowgirls go when they die?
Jim and Kenny, those good looking cowboys from Mountain Grove, were caught sauntering down Cold Springs Road on Saturday on their handsome steeds.  It was the perfect day for a trail ride.  Andrew Harden expects that the Champion Spring trail ride, begun years ago by the late Bud Hutchison, will take place in mid-May.  He will share the date in time for local and distant equestrians to saddle up.
Jim and Kenny
Andrew came in third, on foot, in the adult division at the Skyline School Fun Run 5k Doughnut Dash on Saturday.  There was a good turn out for the event with 49 runners and many spectators.  They finished the race with water, bananas, doughnuts, awards, prizes, and praise for their good efforts.  As one of the two little rural schools left in Douglas County, it is a delight to see our Skyline R2 School flourishing and turning out the well prepared community leaders and solid citizens who will be running things before long.  The hard work and good guidance of the administration, teachers and all the staff is paying off.  Thank you.
J.c. Owsley writes that the highlight of his morning was watching two gobblers strut in the hayfield just out of range for a camera photo.¬† He said several hens were watching the display.¬† He is up in Jordan around Cross Timbers, but the same sight can be seen in these parts.¬† We have turkeys, deer, skunks, possums, groundhogs, turtles, ticks, and other critters populating and enjoying our beautiful countryside along with our farm animals and domesticated pets.¬† We acknowledge and grieve the turmoil in much of the world, while we are awash with gratitude for our good fortune in Champion'ÄĒLooking on the Bright Side!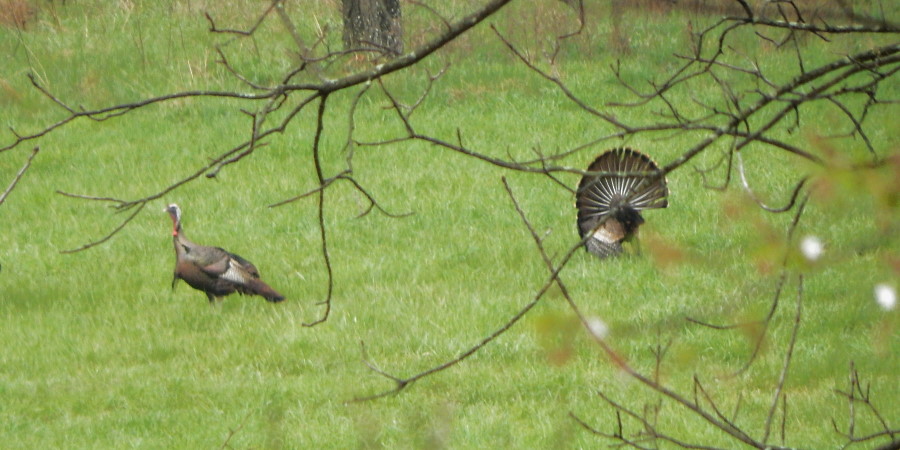 No Comments Yet